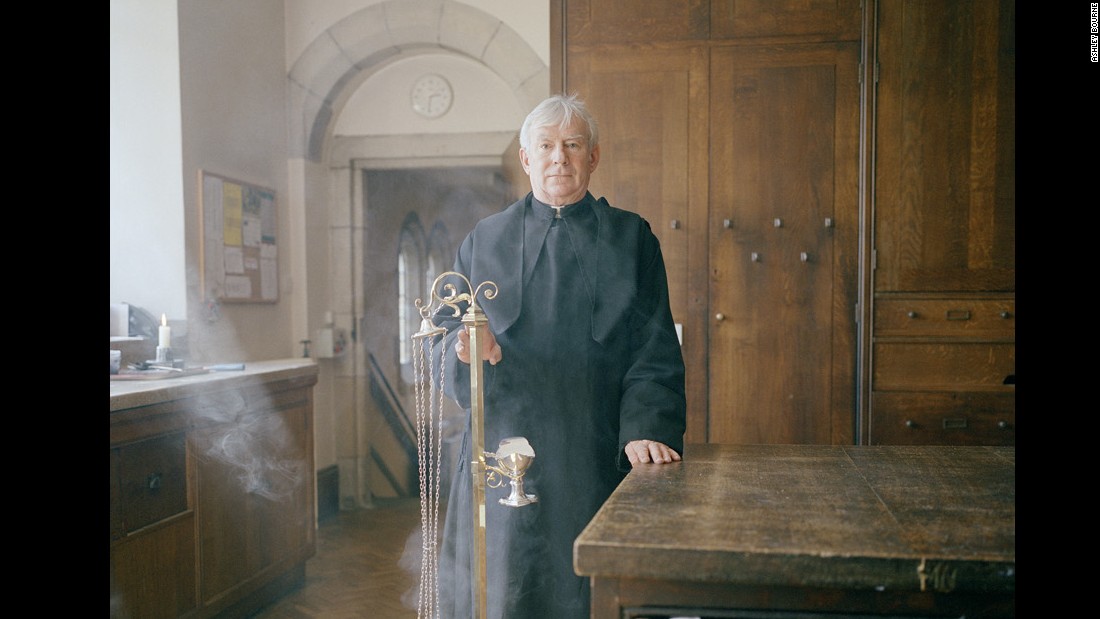 (CNN)When Ashley Bourne was younger, he saw cloaked figures disappearing behind doors — doors no outsiders were allowed to enter — at a Cistercian monastery on the coast of Wales. Ever since Bourne saw those monks, he became curious about the monastic way of life.
"It really struck my imagination," the photographer said, adding that his family to this day still goes on little holidays to the little Welsh island where the monastery sits. "It was like visiting this almost medieval world that was both exciting and mysterious."
When it was time to complete his final degree project at Falmouth University, Bourne thought back to those cloaked, contemplative memories and decided to make a photo series about it.
"I came to realize this way of working reflected the way of life I was focused on: slow and carefully considered," he said.
Bourne met one monk, Father Dominic Mansi, who has a huge passion for magic. They sat in Mansi's private living space, discussing all things magic, before the monk went on to show Bourne his many tricks: card tricks, making things disappear, you name it.
Another memorable moment for Bourne was sharing a glass of the famous Buckfast tonic — a mixture of fortified wine and caffeine — with Buckfast Abbey's oldest monk, Father Sebastien. He has been at the monastery for almost 65 years.
Bourne's photograph of Father Sebastien — No. 4 in the gallery above — was made right before they sat down for their tonic. And after the photograph, Bourne says he then listened to Father Sebastien practice playing his organ in the church.
None of the photographs in "Benedict's House" are necessarily about the Catholic Church, Bourne says. They're more so about one's devotion to a life of spirituality, or a higher power, that is present in almost every religion.
"I wanted to portray religion in a positive light," Bourne said. "A monastic vocation or devotion of life to a spiritual service can be found in Buddhism, Hinduism, etc., and so the work primarily aims to highlight the beauty of this service."
Read more: http://www.cnn.com/2016/11/27/living/cnnphotos-inside-monasteries/index.html
What it's like to live in a monastery