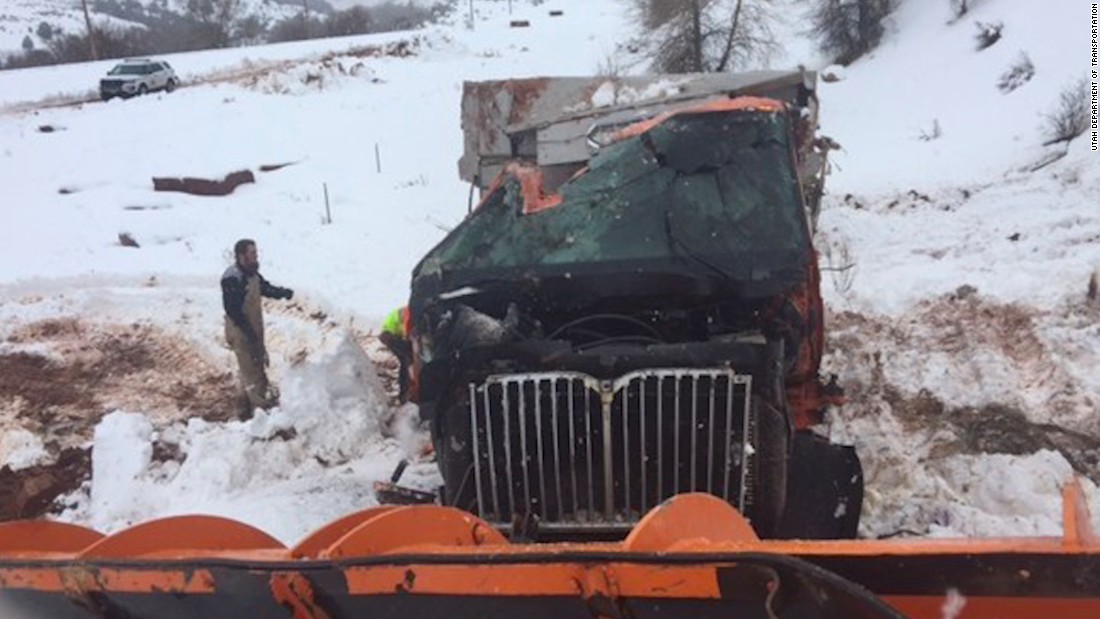 (CNN)Dashcam video released by the Utah Department of Transportation shows a tractor-trailer clipping a state snowplow on a highway, sending the plow careening over the edge of the road and into the Spanish Fork Canyon.
The plow driver, identified by UDOT as Terry Jacobson, survived the Thursday crash and is hospitalized with serious injuries in Provo's Utah Valley Hospital. He has been with the department for more than 23 years.
Photos of the aftermath show the front of the plow and passenger side of the cab smashed. UDOT spokesman John Gleason told CNN that Jacobson was wearing his seat belt, "which saved his life."
"He says he doesn't remember very much other than going through the rail and rolling down the hill," Neil Lundell, a UDOT supervisor, said in a video uploaded to the department's YouTube account.
The truck driver stopped after the collision and called authorities.
UDOT released the dashcam video in an effort to remind drivers to be extra cautious around snowplows.
"This was by far and away the most serious crash we've had with one of our snowplows," said UDOT executive director Carlos Braceras, in the video uploaded to YouTube. "This is the fourth one that we've had so far this year."
UDOT confirmed to CNN the authenticity of the video, despite the incorrect date-stamp on it. The department said the owner of the dashcam incorrectly set the date and time.
Read more: http://www.cnn.com/2017/01/13/us/tractor-trailer-clips-snowplow-utah-canyon/index.html
Tractor-trailer clips snowplow, sending it into Utah canyon