North Dakota police arrested 76 people one day after federal officials suggested that the government could soon approve the final stage of pipeline construction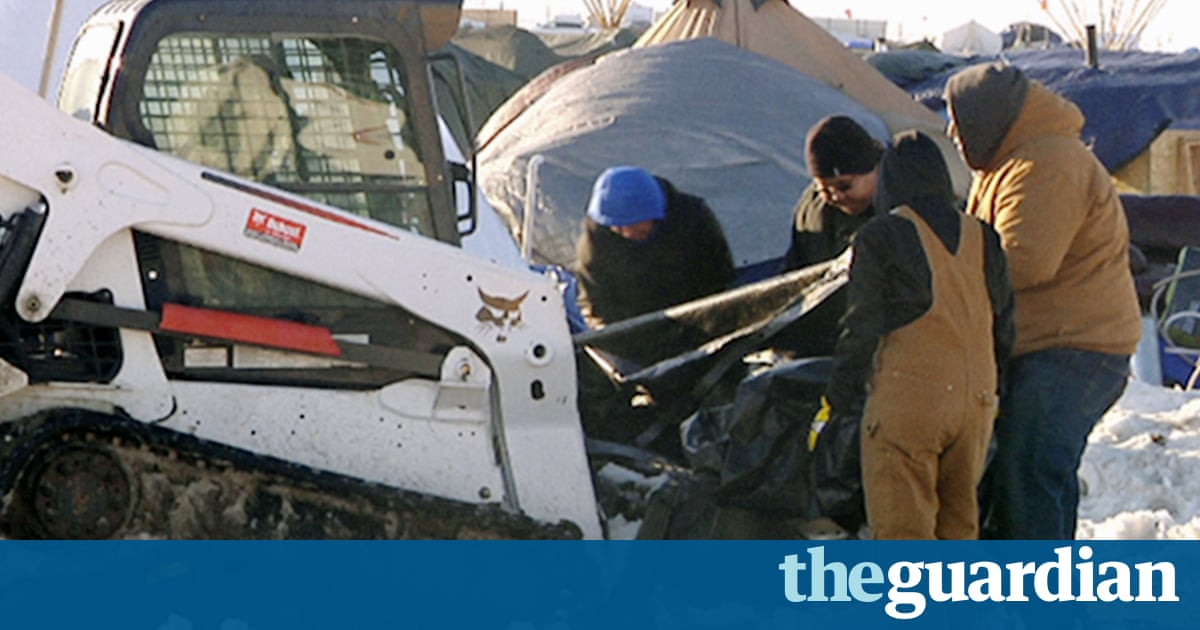 North Dakota police have arrested 76 people at Standing Rock one day after federal officials suggested that the government could soon approve the final stage of construction of the Dakota Access pipeline.
The arrests occurred after a group of activists, who call themselves water protectors, established a new camp near the pipeline construction.
Rob Keller, spokesman for the Morton County sheriffs office, told the Guardian Wednesday night that it was too soon to say what charges were being filed. In a statement, he claimed that a rogue group of protesters had trespassed on private property.
A lot of water protectors really felt that we needed to make some sort of stand as far as treaty rights, said Linda Black Elk, a member of the Catawba Nation. We basically started to see police mobilizing from all directions. Someone came along and told us we had about 15 minutes before the camp would get raided.
Black Elk, who works with the Standing Rock Medic & Healer Council, said there were initially hundreds of activists at the new camp but that those who did not want to be taken into custody ultimately decided to retreat.
There were a lot of people who felt like the prospect of treaty rights was something worth getting arrested over, she said.
The tense confrontation comes one week after Donald Trump issued an order demanding the revival of the Dakota Access pipeline and the controversial Keystone XL pipeline, reversing Barack Obamas actions.
The Standing Rock Sioux tribe, which has long argued that the $3.8bn pipeline threatens its water supply and sacred lands, has vowed to fight the order. Activists are seeking to assert indigenous treaty rights, which they say the government and the oil company have violated.
On Tuesday night, Senator John Hoeven of North Dakota announced that the acting secretary of the army has directed the army corps of engineers to proceed with an easement necessary to finish the pipeline. His spokesman said the easement, which Obama had denied in December, isnt quite issued yet, but they plan to approve it within days.
MG Malcolm Frost, US army chief of public affairs, said in a statement on Wednesday that the government was acting on Trumps order to expeditiously review requests for approvals to construct and operate the Dakota Access pipeline in compliance with the law.
Some indigenous and environmental activists have been camped out by the pipeline project for months, remaining in place through the cold North Dakota winter. A group mobilized Wednesday to form the new camp, which quickly attracted attention of local law enforcement.
The Morton County sheriffs office said it took action to enforce the law and evict the illegal camp after people refused to leave. At around 3.30pm, police began making arrests.
Our law enforcement officers conducted themselves in a safe and responsible manner, Morton County sheriff Kyle Kirchmeier said in a statement.
The sheriffs office which has now made a total of nearly 700 arrests since the Standing Rock demonstrations escalated last summer said the camp was cleared by 4pm. The activists were taken to five different jails across North Dakota.
Two medics were arrested, according to Noah Morris, a medic who has been at Standing Rock for months.
Were always concerned when any of our friends or comrades end up in the hands of the state, said Morris, who monitored the actions from a distance and was not apprehended. We hope they act in a professional manner and dont harm them in any way and dont target them for extended detention.
During numerous arrests last year, Native Americans have alleged mistreatment and inhumane conditions in local jails.
Were trying to get them out of that situation as soon as possible, said Black Elk, who was not arrested. We have completely lost faith in local law enforcement and their ability to control themselves.
She added: Were standing up for our first amendment rights. Were standing up for our treaty rights … They are punishing us for that.
Read more: https://www.theguardian.com/us-news/2017/feb/01/standing-rock-arrests-dakota-access-pipeline-construction
Over 70 arrested at Standing Rock as Dakota Access aims to finish pipeline