Pooches sporting placards, slogans and even a wig were out in force during worldwide protests against the new US president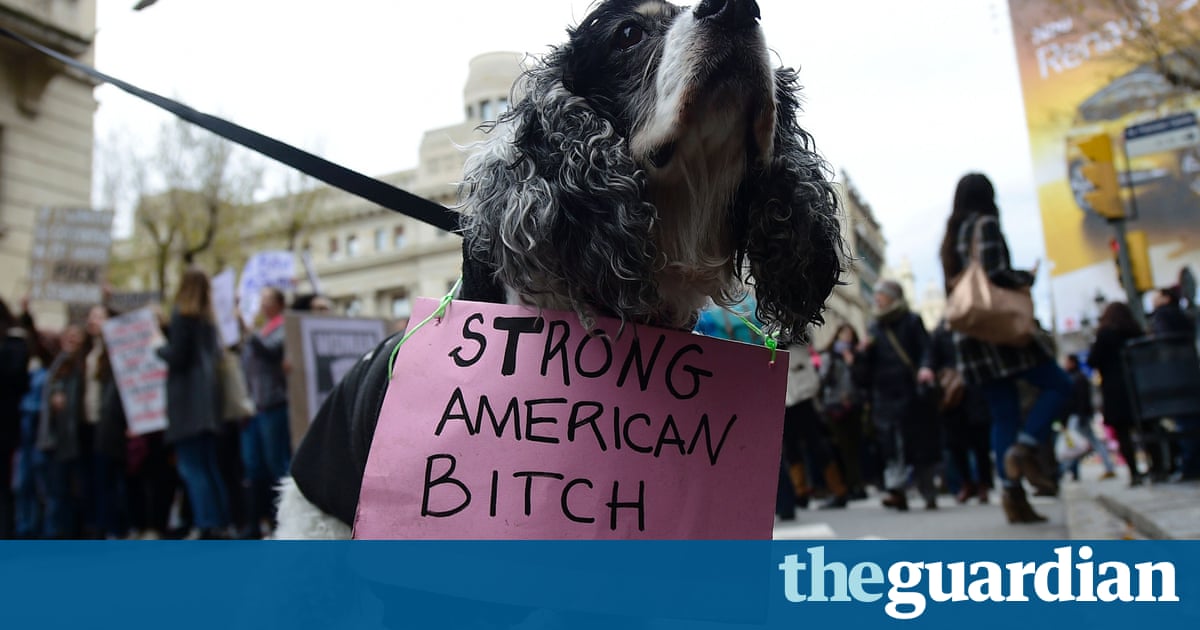 Dogs proved themselves womens best friends in global protests against Donald Trumps inauguration as president, with good boys and good girls the world over taking walkies for a cause.
Pups against patriarchy and Paws and laws off womens bodies were among the placards displayed by dogs taking part in marches and shared on social media over the weekend.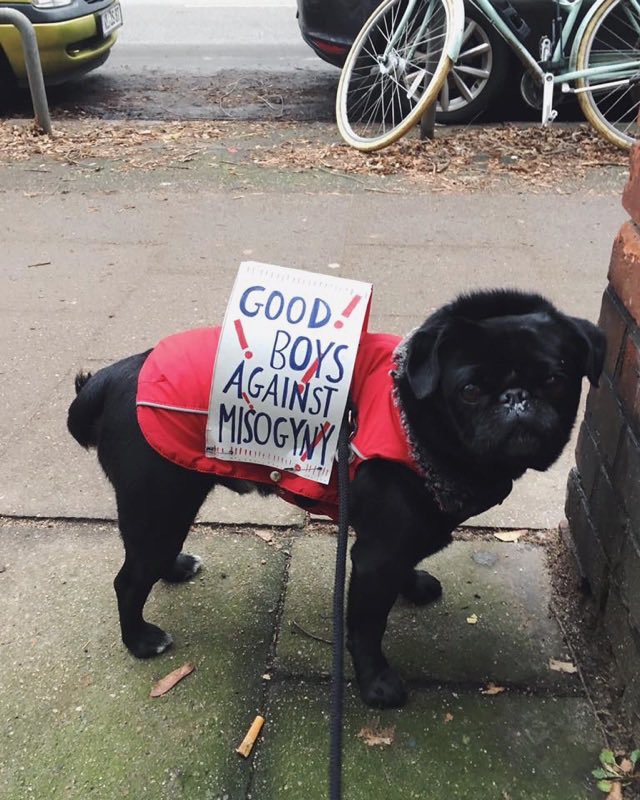 Several signs pointed out the ease with which dogs understood boundaries that were apparently lost on the new president.
A golden, curly-haired individual was snapped stating that real dogs dont grab pussy, while a German shepherd teamed waterproof booties with a sign reading, Even I understand no means no.
A terrier with a sign reading I am not a hate mongrel and a self-identified nasty bitch were snapped at the womens march in Seattle as were a couple of cats.
Plays on the word bitch were a popular choice for dog (owners) attending the march, following reports that Trump called the former secretary of state Condoleezza Rice that word in a keynote address in 2006.
Another former secretary of state, John Kerry, took part in the womens march in Washington DC with his golden labrador retriever, Ben unadorned by a placard, but named after the countrys first diplomat, Benjamin Franklin.
One dog wore a homemade shirt stating his intention to resist, in his own small way, Trumps proposed border protection with Mexico.
In Madison, Wisconsin, a dog vowed to sit and stay with Planned Parenthood.
And in Point Loma, San Diego, a shaggy, apparently very tolerant dog appeared as Trump in a suit and auburn hairpiece, identifiable by the sign: Putins poodle.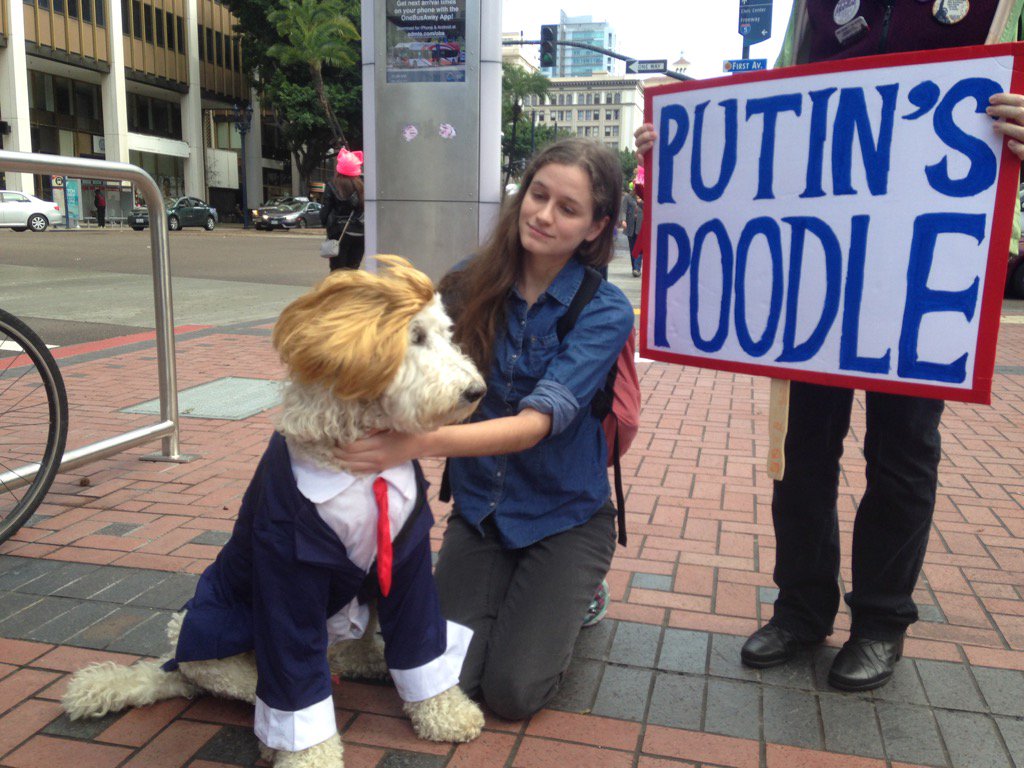 The pictures of the pack of politically empowered pooches were widely shared on social media, including in Dogspotting: a Facebook group of nearly half a million users who post photos of strangers dogs.
The sizeable and rigid online community of spotters observe a set of rules, the most important being no known dogs.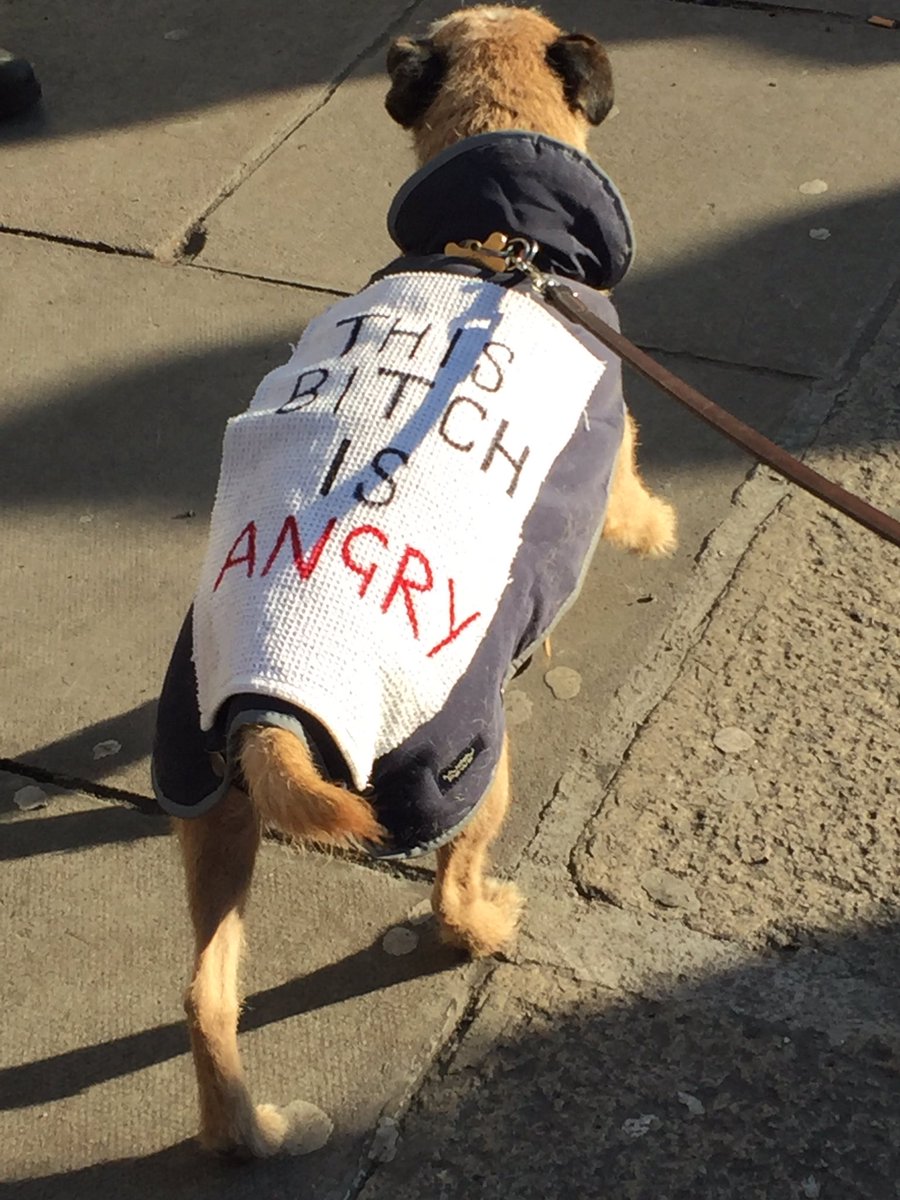 Much of the activity on Dogspotting over the weekend was photographs of dogs seen at womens marches, prompting a stern reminder from one of the groups administrators about projection of political agendas.
Jeff Wallen reminded members on Saturday that it was against the rules to attribute a human ideology to a dog.
You MAY say I spotted a dog at so-and-so rally because that is true, but please do not project your agenda on the dog, he said. It was there because a human brought it there, not because it supports your cause … You arent here to protest, you arent here to debate, you are here to Dogspot.
The specific rule is against issues posts and aims to preclude comments or posts that will politicise or disrupt Dogspotting.
If a dog is at a political rally, then your post should read, I spotted this dog at a so-and-so rally, not I spotted this dog supporting the agenda I hold, outlines the pinned post. Dogs do not share human aspirations, they support the getting of treats and that is about it!
Wallens post prompted heated discussion among the groups members, though many were in support of an online space free of politics and full of dogs.
Start banning even if temporary, replied one member in regards to people who flouted the rules. I come here for doggos and to get away from the rest.
Read more: https://www.theguardian.com/us-news/2017/jan/22/out-fur-a-cause-dogs-join-womens-march-against-donald-trump
Out fur a cause: dogs add bark to women's march against Donald Trump