Two of the Premier Leagues most tactically astute managers in Jrgen Klopp and Pep Guardiola each had spells of superiority but Manchester City and Liverpool had to settle for a draw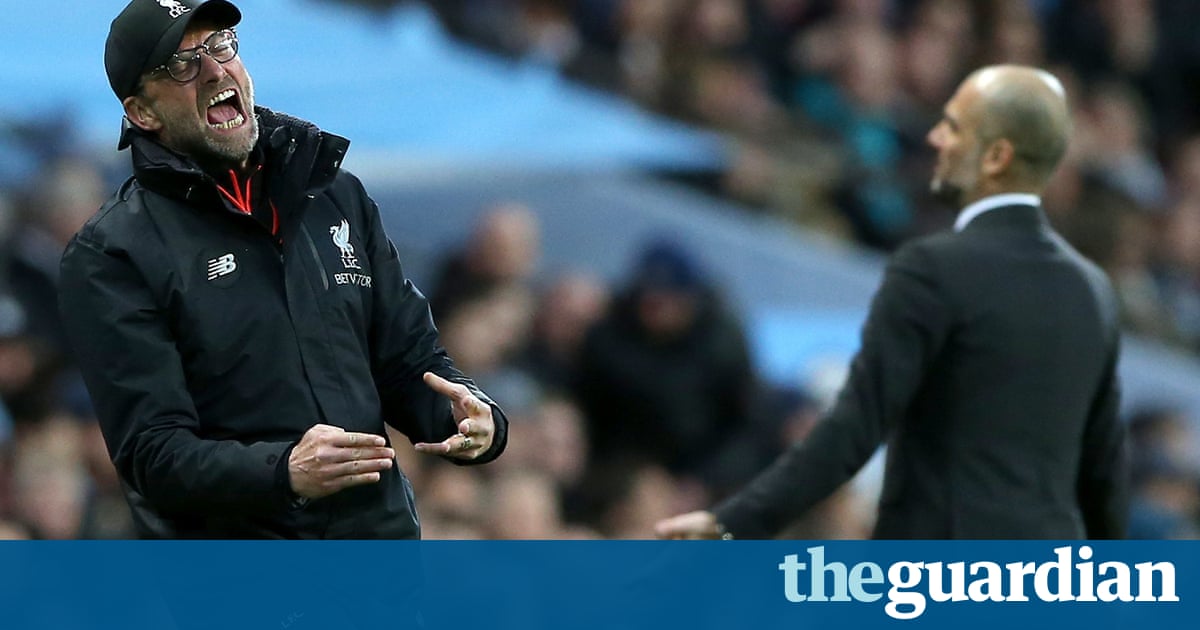 In a season featuring the best managerial lineup in Premier League history this felt like the type of match we were promised. Two hightempo, dynamic sides with different attacking philosophies produced an enthralling end-to-end contest featuring mesmeric passing moves, incredible bursts of pace and some quite dreadful misses.
Manchester City started strongly, enjoying good spells of possession and working the ball into David Silva regularly. Pep Guardiola deployed a 4-2-3-1 rather than his usual 4-3-3, continuing with Kevin DeBruyne in a deep midfield position and Silva at No10, after his switch to that system prompted a second-half improvement at Monaco in midweek. Raheem Sterling and Leroy San stretched the play, while Fernandinho charged forward from right-back as City focused their attacking down that side, causing James Milner serious problems.
Liverpool, however, worked their way into the contest, pressing effectively. The return of Roberto Firmino was crucial, both for his work rate without possession and his movement into deeper positions when Liverpool built passing moves, finding space in behind Yaya Tour. Meanwhile in Sadio Man Liverpool have a rightwinger who spends more time in centre-forward positions, becoming his sides most dangerous goalscoring threat. Nicolas Otamendi was isolated against him in the early stages, clumsily bringing him down to prevent his lack of pace being further exposed. From then Gal Clichy barely advanced, in an attempt to deny Man space.
City created better chances before the break, particularly with clever through-balls between Liverpools defenders to find Sans runs, although Silva also popped up in dangerous left-wing positions in behind and created a fantastic chance when receiving a through-ball from DeBruyne and flashing the ball across goal, which Sterling somehow failed to connect with, under strong pressure from Milner, and Fernandinho could only turn into the side-netting at the far post.
Liverpool took the initiative in the second half, through a mixture of superior energy levels and better pressing. A couple of occasions, when Man and Adam Lallana sprinted back into defensive positions, underlined their tenacity and was in contrast to the lethargy shown by Citys attackers and, in particular, Tour. Milners opener from the spot, after Clichy was caught ballwatching then fouled Firmino when desperately recovering his position, forced Guardiola to reshape.
He sacrificed the sluggish Tour and introduced right-back Bacary Sagna, prompting Fernandinho to become the defensive midfielder, where he provided extra energy and some tough tackles. Meanwhile, Silva dropped deep alongside him to pull the strings, DeBruyne moved to the right flank, and Sterling became the No10. This huge reshuffle worked: City got a grip of the game again, DeBruyne, typically, curled a wonderful cross in behind the Liverpool defence for Agero to convert.
There should have been further goals, particularly for Liverpool. Their breakaways were fantastic but their attackers lacked composure Lallana barely made contact from point-blank range after Firminos excellent knock-down, which perhaps explains why Firmino shot from a crazy angle shortly afterwards, rather than crossing for the unmarked Lallana. Man, meanwhile, wasted an opportunity to breeze past Stones with a heavy touch. At the other end, Agero blazed over from yet another right-wing cross.
It was breathless stuff and among all the talk of coaching philosophies this game was partly brilliant as it felt as if neither manager could control the utterly frenetic contest taking place in front of them.
Read more: https://www.theguardian.com/football/blog/2017/mar/19/jurgen-klopp-pep-guardiola-cancel-each-other-out-frantic-contest
Jrgen Klopp and Pep Guardiola cancel each other out in frantic contest | Michael Cox