Viktor Orban calls on Hungarians to have more children at summit for World Congress of Families, dubbed hate group by Southern Poverty Law Center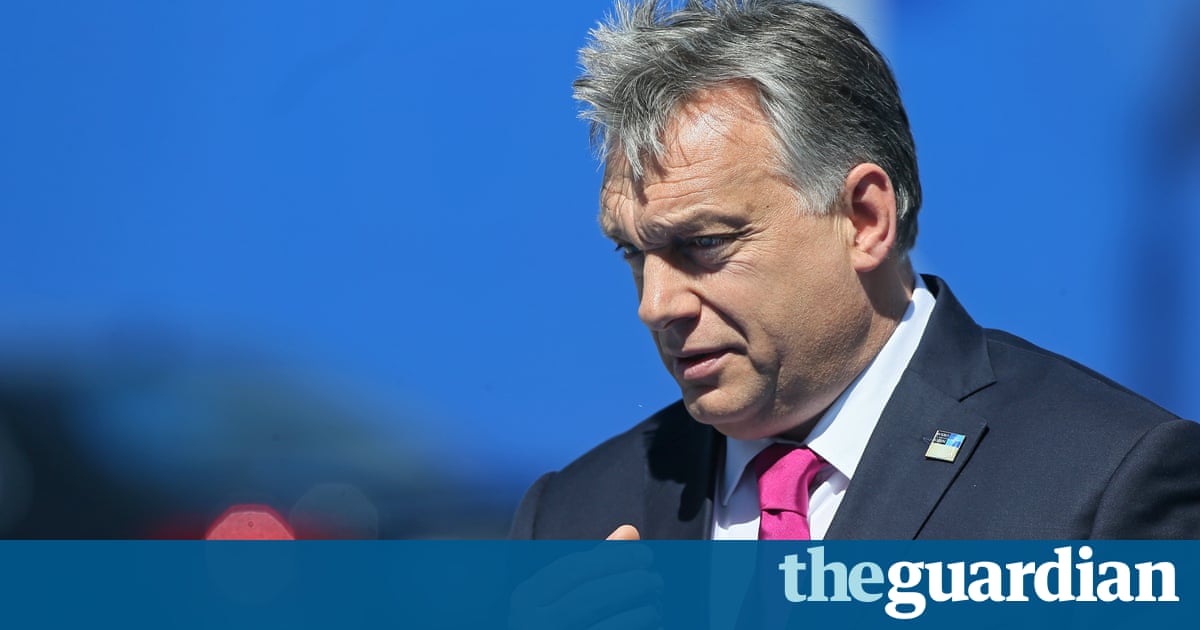 Hungarys rightwing government has opened a potential new front in its war of words with Brussels by hosting a lavish international gathering for an American Christian organisation that has been accused of being anti-LGBT hate group with links to the Kremlin.
The 11th World Congress of Families (WCF) summit meeting kicked off in Budapest on Thursday with a typically pugnacious speech by Viktor Orban, the Hungarian prime minister, who accused the European Union of being dominated by a relativising liberal ideology thats an insult to families.
In his address, Orban announced new measures encouraging Hungarians to have more children to reverse long-term population decline. It came as Hungary is locked in a confrontation the EU over a catalogue of issues including its policies towards asylum seekers, civil society groups and the Budapest-based Central European University, funded by George Soros, which could be forced to close under new legislation.
The four-day pro-family extravaganza which will be attended by 3,000 delegates and will include events at the national parliament and other venues of symbolic importance is the latest episode in Orbans quest to position himself as a self-styled defender of European Christian values, a role he has used to justify his Fidesz governments draconian treatment of mainly Muslim refugees and migrants.
However, the attempt threatened to backfire after rights campaigners criticised the governments decision to host the event, citing the WCFs attitude towards gay people.
The Alabama-based Southern Poverty Law Center (SPLC) has defined the group an umbrella organisation based in Rockford, Illinois as a hate group because of its role in Russias 2013 anti-gay propaganda law, which made it a crime to promote gay lifestyles and which campaigners say ushered in a new wave of discrimination against LGBT people.

The group also opposes abortion rights and gay marriage and promotes the concept of the natural family, which critics insist is code language for fierecly homophobic sentiments.
Its founder, Allan Carlson, who also spoke on the summits opening day, has previously called heterosexual, procreative marriage the bulwark of ordered liberty.
Ryan Lenz, senior reporter with the SPLCs intelligence project, accused the group of peddling junk science.
We defined it as a hate group not because it disagrees with LBGT people on religious grounds or opposes gay marriage but because it seeks to demonise a class of people for something they cannot change, he said.
Hungarys government is welcoming a hate group that promotes a worldview demonising an entire class of people. What are we to take from that? Are we to think that the Hungarian government was unaware that the World Congress of Families held these beliefs?
Equally troubling, some critics say, are the groups ties with oligarchs and figures from the Russian Orthodox church who have links to Vladimir Putins government some of whom will attend the Budapest summit.
Among them will be Alexei Komov, believed to be WCFs fundraiser in Russia, who has known connections with two powerful oligarchs, Vladimir Yakunin, a former president of Russian Railways and former close associate of Putin and Konstantin Malofeev, a billionaire Orthodox philanthropist, both of whom have funded the groups Russian activities.
Yakunins wife, Natalia Yakunina who chairs Russias Sanctity of Motherhood group is attending, as is Dimitry Smirnov, a powerful Orthodox clergyman, who has referred to gays as homosexualists and called their activities sinful.
This is not normal conservative politics, said Lorant Gyori, a researcher at Political Capital, a Budapest-based thinktank. Theres a geopolitical angle which is about Russia and the Kremlin trying to sell its message. The Kremlin uses [groups like] the WCF to assert its soft power in central European society.

By elevating this conference to a state-level event, we now almost see that Fidesz is positioning itself as a far-right party. It goes against European values because people rally against the equality of men and women or of a minority group like the LGBT community. They are obviously going against legislation which tries to secure these groups rights and status.
In political terms, it will allow the Hungarian government to assert its own ultra-conservative position on the world stage and help relations with the Kremlin. The Russian people here wouldnt be allowed to participate without the Kremlins knowledge, so their presence will help establish some high-level connection between Hungary and Russia.
The Hungarian governments role has been managed by Katalin Novak, the minister for family affairs and a rising star in Orbans government. Zoltan Kovacs, the prime ministers international spokesman, confirmed that the government had provided funding.
The WCF described Hungary on its website as showing strategic leadership in becoming an advocate for the natural family in Europe. It hailed the rewritten 2013 constitution drafted by Orbans government which defines marriage as between a man and woman, thus precluding gay marriage, and for asserting that the unborn foetus has rights, although abortion is legal in Hungary.
Kovacs rejected suggestions that the government was associating itself with anti-gay policies by hosting the summit.
We are not demonising anyone. We are putting our priority into families, he said in an interview. We believe that that families and having kids is the key to the crisis of demographic we face, and that is the declining population. This philosophy goes against another philosophy, which is that the problems of Europe should be sorted out by migration, especially third-country and non-European migration.
Challenged repeatedly regarding homophobic views such as those expressed by Smirnoff, he said: Isnt it the case with democracy that even on the widest spectrum, you have to accept opinion and if you work for something, you look for those issues on which you can work together? We would like to hear what they are going to say about families. A democratic debate should tolerate and accept that there are different opinions.
The European parliament last week backed a resolution calling for sanctions against Hungary over rule of law issues, a move that could result in the country losing voting rights within the union. The resolution invoked the alleged denial of rights to minority communities, including gay people.
In response, Kovacs said: There is no discrimination against LGBT people here in this country.
Asked about the WCFs supposed connections with the Kremlin, he added: Its a very stupid suggestion that Hungary has closer links with Russia than any other European country. We would advise people who put those charges or form an opinion in that way to think twice.
Read more: https://www.theguardian.com/world/2017/may/26/hungary-lgbt-world-congress-families-viktor-orban
Hungary's president welcomes US 'anti-LGBT hate group', fueling feud with EU