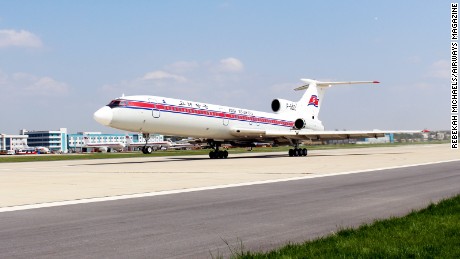 Pyongyang, North Korea (CNN)This is not a destination that sees a lot of seasoned business travelers. Airline lounges, frequent flier miles, hotel points, car rentals? Not here.
In the Democratic People's Republic of North Korea — aka the DPRK — there's no collecting miles to redeem for free flights or hotel nights, business class upgrades or two-story hotel suites for the price of a standard room.
The familiar perks of the civilized travel industry are non-existent, and the regulations would make anyone shiver.
Well, at least they made me shiver.
But I'm also a big aviation enthusiast. I love airplanes.
There are many like me out there: fierce avgeeks who constantly try to jump back in time by flying on airliners that, in developed countries, would have been turned into soda cans more than 20 years ago.
But North Korea doesn't have the means to turn airplanes into cans.
Amid the sanctions, fuel supply bans and international boycotts, North Korea has to do what it can to stay in the air — even if it's with Soviet airplane dinosaurs from the 1960s.
Its national airline, Air Koryo, offers aviation that is nearly extinct — and absolutely irresistible to the dedicated avgeek.
Mixed emotions
In addition to the thrilling flights, our visit involved an obligatory three-hour ride through rural North Korea, allowing us to witness vast, muddy fields, where poverty and hard labor are the norm.
Agriculture is practiced without machinery. Highways are paved by hand.
It was heartbreaking to see hundreds of people using their bare hands to pave roads with burning asphalt or trimming grass with scissors and hand tools beside a pristine mosaic of North Korea's leaders.
We weren't allowed to take pictures of any of this.
We were required to bow in front of statues or images of North Korea's leaders seven times throughout the trip, which really put me ill at ease.
It seemed that the North Koreans were trying to humiliate us by making us surrender to their idiosyncrasies.
Truth is, this was one of the most physically, mentally, and emotionally challenging trips I've ever been on.
Excitement, frustration, intrigue, anger, perplexity and disbelief were palpable and pervasive, and yet as we reached the airport to board our flight to Beijing, I couldn't help but feel nostalgic.
Will I return? I doubt it. Not unless the country opens up to the world and the threat of visitors being detained there disappears.
But I have to say, flying on those airplanes made every minute of this trip priceless.
Read more: http://www.cnn.com/2016/07/04/aviation/north-korea-airline-air-koryo-aviation-enthusiast-russian-airplanes/index.html
How I flew on North Korea's rarest Russian airliners