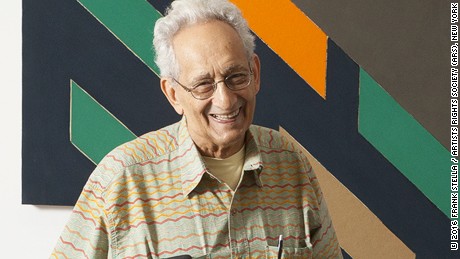 (CNN)American artist Frank Stella has made his debut with Sprth Magers, showing works from his 1970's "Polish Villages" and "Bali" series of the noughties at their Berlin gallery.
Bridging geography, time and style, the series represent distinct phases in the seminal American artist's career: the former, Russian Constructivist-styled reliefs inspired by Polish synagogues that were destroyed by the Nazis; the latter, painted steel wire sculptures based on photographs from anthropologists Margaret Mead's and Gregory Bateson's studies of children in Bali.
"It's a record basically of architectural history… It's an attempt, in a way, to preserve the architecture and the ideas behind it," he says.
But in spite of having familiarized himself with the synagogues themselves and their history before he began work on the series in the 70's, Stella was still struck seeing his work contextualized with the other effects.
"I mean, the relationship between [the recreated synagogue] and the pieces we had, and the drawings there — You know, [Polish Villages] didn't really seem nearly as far-fetched as it did in the beginning!"
Read more: http://www.cnn.com/2016/07/17/arts/frank-stella-spruth-magers-berlin/index.html
Frank Stella bridges the gap between Poland and Bali