Officials will recount nearly 1.3m votes despite opposition leader Guillermo Lassos call for a total recount over fraud claims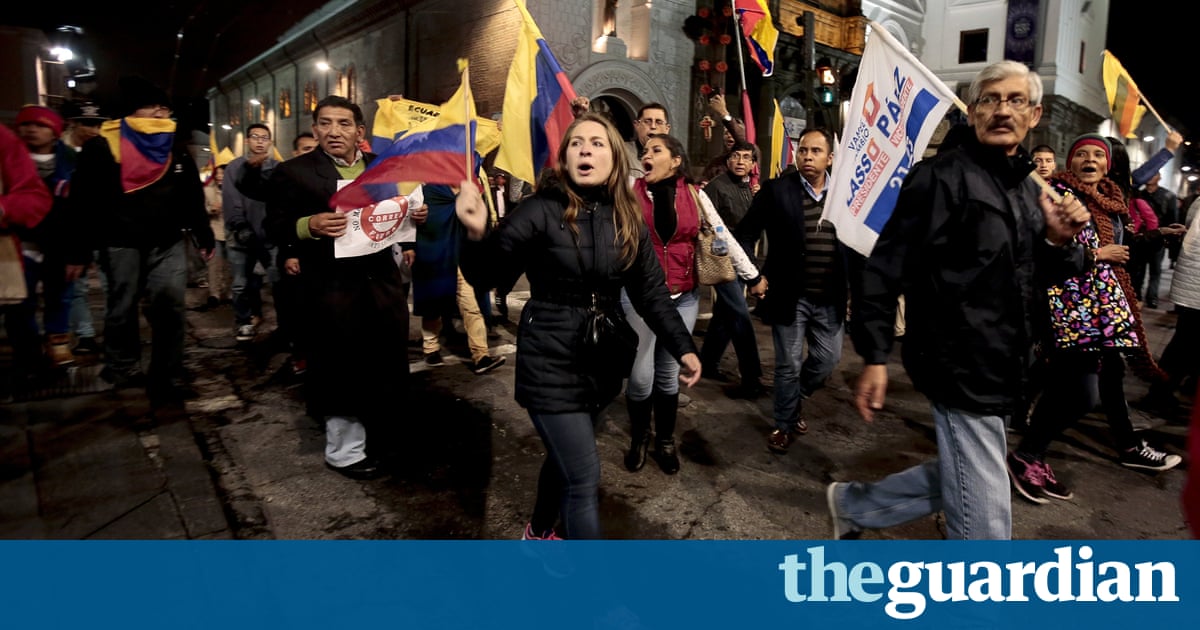 Ecuador election officials will recount nearly 1.3m votes cast in the Andean nations presidential election, though opposition leader Guillermo Lasso on Friday dismissed the gesture as a farce that would do nothing to quell accusations of fraud.
The National Electoral Council announced late on Thursday it would recount all ballots contested by both parties, about 10% of the total vote.
Official results from the 2 April election showed conservative former banker Lasso lost by less than three percentage points to President Rafael Correas handpicked successor, Lenn Moreno. International observers including the Organization of American States (OAS) have said they found no irregularities, though Lasso claims his campaign found numerous inconsistencies and has refused to accept the official results.
Council president Juan Pablo Pozo has said reviews showed no evidence of fraud but said he agreed to a recount for the tranquility of the country.
Ecuadors election was closely watched in Latin America as an indicator of whether the region would continue to shift right after recent conservative wins in countries including Peru and Argentina.
Analysts also viewed the election as a test of the legacy of Correas citizens revolution. Moreno vowed to continue the presidents platform of promoting social benefits such as expanded access to education and healthcare while Lasso put forward a pro-business agenda he said would lift Ecuadors struggling economy and generate new jobs.
We wont participate in this Correista show attempting to deceive voters, Lasso said on Friday in response to the councils decision. Because we should be clear: the only way of knowing the truth and making the process transparent is a total recount.
On Twitter, Correa said the electoral council was taking extraordinary steps to finish at once Lassos show, for the elections the banker could not buy.
Lassos campaign contends voter returns on election night showed the conservative candidate was winning when the National Electoral Councils website stopped working. The website later came back online and showed Moreno had taken the lead. They say a review of ballot turned up inconsistencies including a small percentage of polling sites with outsized majorities in favour of Moreno and ballots with technical errors.
We believe this election was rigged, Andres Paez, Lassos running mate, wrote in column published in the New York Times. Once again, the National Electoral Council has proved itself loyal to the populist government of President Correa.
Pozo has vehemently disputed those claims, saying the council reviewed nearly 300,000 ballots and found they matched the official result. We have nothing to hide, he said in a statement.
The OAS has said its mission of electoral observers visited 480 voting centres at random nationwide and found no discrepancies between the tallies and the official results.
The recount is to take place on Tuesday in capital city Quito.
Read more: https://www.theguardian.com/world/2017/apr/15/ecuador-presidential-election-10-of-votes-to-be-recounted
Ecuador presidential election: 10% of votes to be recounted