Niranjan Rasalingam had no lawyer and was at first unaware of his full sentence for role in ATM card scam that he denies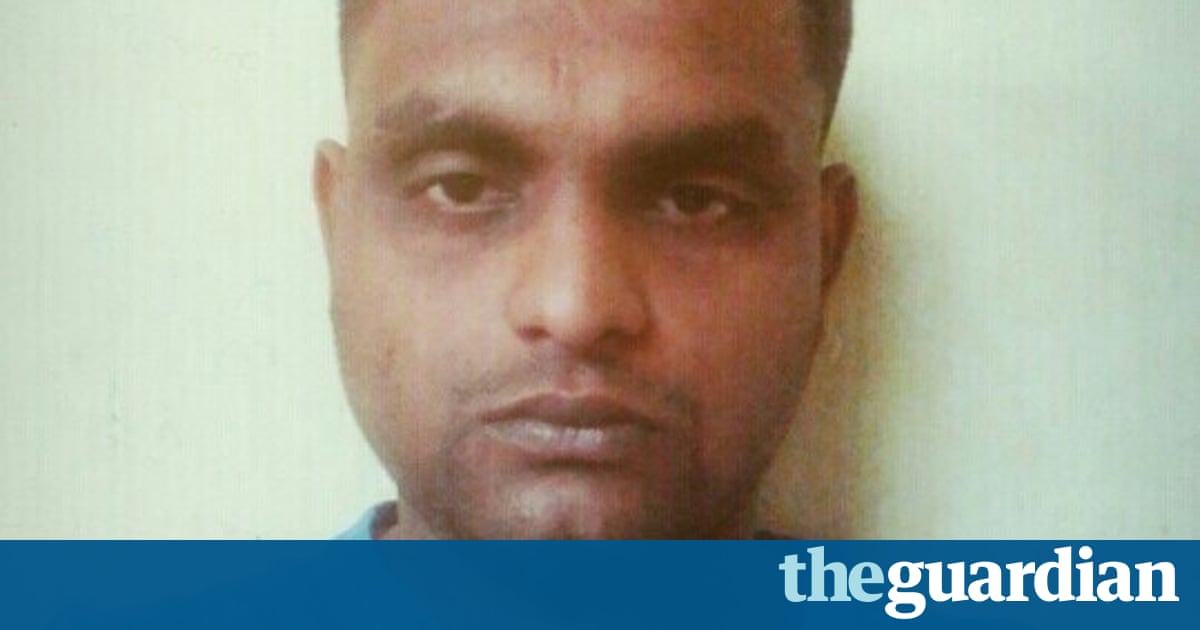 A court in Myanmar has sentenced a 30-year-old British man to 17 years in jail in a case that has attracted criticism after he was held for more than a year without charge.
Niranjan Rasalingam, an accountant from Croydon, was arrested in 2014 alongside three Indian nationals on suspicion of stealing 25.2m kyats (13,744) using cloned ATM cards in Yangon.
Poor conditions during their incarceration and a confused and lengthy trial have mired the case in controversy. Although Rasalingams sentencing was on 16 June, his pro-bono lawyer was not present and his translator left early.
I went to the courthouse to try to get a clear explanation of his sentence after receiving distressed calls from Niranjan, Nadia Hardman, an international legal consultant based in Yangon, told the Guardian in an email.
Niranjan was confused and said he was facing a 17-year sentence but that he could reduce it to nine years if he paid a 400 lakh (23,000) fine within one week, she added. This left him in an impossible situation he didnt know if his family could raise so much money or how to get it to Myanmar. He didnt have a translator or a lawyer.
Hardman said a court transcript later showed that Rasalingam had indeed been sentenced to 17 years in prison, for immigration and other offences, as well as crimes under the Electronic Transactions Law. It is not clear if the now expired week-long deadline to pay the fine to reduce the sentence was enforced or extended, or if he can raise the money.
Last year Rasalingam denied the allegations against him in an interview with the Guardian and said he was being kept under inhumane conditions at the countrys infamous Insein prison, where he said he was assaulted by another prisoner.
Life in Insein prison is hell on earth the conditions, the corruption and the danger, he said. I have paid to get a bed and bedding and friends from the UK have sent money to me to try to get a few comforts like additional food and toiletries, he said at the time.
Authorities had transported him to different courts around the country every two weeks to be repeatedly remanded, a process that allowed police to legally keep him detained for months without charge.
Rasalingam said he was in Myanmar as a broker for a holiday reservation website. He knew only one of the three Indian nationals he was arrested with, through a family friend, he said.
It is not clear if the Indian nationals were also sentenced to the same time in jail.
The Indian embassy is believed to have filed a complaint to the Myanmar foreign ministry last year. The mens legal team alleged that the three were not even in Myanmar on 16 November 2014, when the crime was allegedly committed.
A complaint by Myanmar bank Kanbawza Bank Limited (KBZ) led to the four mens arrest. KBZ has not respond to repeated requests for comment over several months, including one following the sentencing last week.
The Myanmar government also did not respond to requests for comment.
Two representatives from the UK government were present for the sentencing and an FCO spokesman said it had been supporting [Rasalingam] since we were first made aware of his detention in December 2014, including regular visits to check on his welfare.
He added: We have raised this case with the Burmese government on a number of occasions, setting out our concerns over his health and delays in the legal process. While we cannot directly intervene in the judicial process of another country, we will remain in close contact with Mr Rasalingams lawyers as he decides what steps he wishes to take next.
Read more: https://www.theguardian.com/world/2017/jun/23/british-accountant-sentenced-to-17-years-in-myanmar-jail-in-controversial-court-case
British accountant sentenced to 17 years in Myanmar jail in controversial court case